Fortunately, the spring flowers are coming again! Spring pushes the cold of winter into the background. While we were surprised with sub-zero temperatures at the beginning of February, spring has fought back well and fortunately we can say that it has warmed up well within a few days.
The birds also sing for our greatest spring happiness!
And who says spring, says gardening and of course says plants ... What a pleasure to see all the colors in nature as reborn. The joys of the colors as you like are scattered in varieties that are all different from each other ... And it must be said that the choice remains quite large!
I also thought that the fact of this rebirth gives us a little bit of excitement like it's Christmas. Nature offers us its greatest gift.
Spring flowers, we can't wait for you to get there!
So I said to myself (right, I'm talking to myself: D) that a small top 5 could get us all in the spring mood of 2021! Are you ready ?! Let's go!
Osteospermum: vegetable vitamins
This plant (also known as the Cape daisy) is a dose of vitamins in itself. Full of energy, she remains careful. It is one of the perennials, mainly by the sea.
But the Osteospermum is grown all year round, in colder regions. Even when it freezes at -5 ° C
Do you want a longer flowering time? Do not hesitate to remove the flowers that have already withered.
Using pruning shears to remove those unsightly parts that pump energy to the plant.
From there it will be fully operational to thrive.
Flowering lasts an average of 6 months, from April to October. This plant is a strong value to beautify your gardens.
My opinion: Osteospermum is very reminiscent of my childhood, we used to put a lot of it in my mother's garden. It was a paradise of colors, and when the sun shines in the summer: it was just a paradise!
Nursery van Wensen has a beautiful collection of Osteospermum. Well worth a look
Fuchsia: The elegant bloom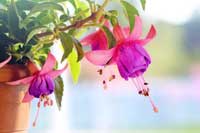 Native to South America and sometimes New Zealand, this plant is elegance in its own right! I love it. The colors, harmonies and the different shapes it can take are simply stunning.
The bell-shaped flower won me over. It reminds me of a dancer in action. A lust for the eye!
It is a self-contained plant that may only reach -10 ° C for some species. Flowering is from June until frost.
Plus, he likes cool soils with partial shade or even sun exposure.
During the winter it is best to protect the plant from frost.
As with the osteospermum, do not hesitate to remove overblown flowers to give it the vitality it needs for new blooms.
Its name is a hundred different species with different periods of different flora. It allows you to create endless variations
My opinion: Fuchsia is an attractive plant because of its shapes and colors (white, pink, red, blue-mauve, purple ...). And it brightens up any garden very easily. Also take a look at Kwekerij Mensch for the most beautiful Fuchsia
A little advice for enthusiasts: the royal greenhouses of Laeken (in Belgium) are only open for 3 weeks in April. Their collection of fuchsias is nothing short of breathtaking. If you ever get the chance, don't hesitate and go on a tour. It's just WOW!
Pelargonium: Childhood memories guaranteed
We all know the geranium, it reminds us of our grandmothers (in general) ...
Well, here's another from the same family: Pelargonium! Originally from Africa, it lives well in cold regions.
Flowering begins in spring and ends during the first frost. There are about 400 different types. The colors are so diverse that it is impossible for us to choose objectively ... So let's take them all!
They are beneficial: pelargonium likes full sun and some pelargoniums are also very fragrant (130 varieties). Can and smell rose, but mint the most common is lemongrass.
It is not the flowers themselves that fill the space. The leaves have glands on the underside that, when creased, give off more or less strong smells.
My opinion: I like the authenticity of this plant. They are sometimes vintage or almost outdated, which gives it a certain charm. And that the plant is so much reminiscent of our childhood, it is highly recommended in any garden!
If you are looking for the most beautiful Pelargonium, you can always contact Bergcamp nursery
Hydrangea: an uncomfortable classic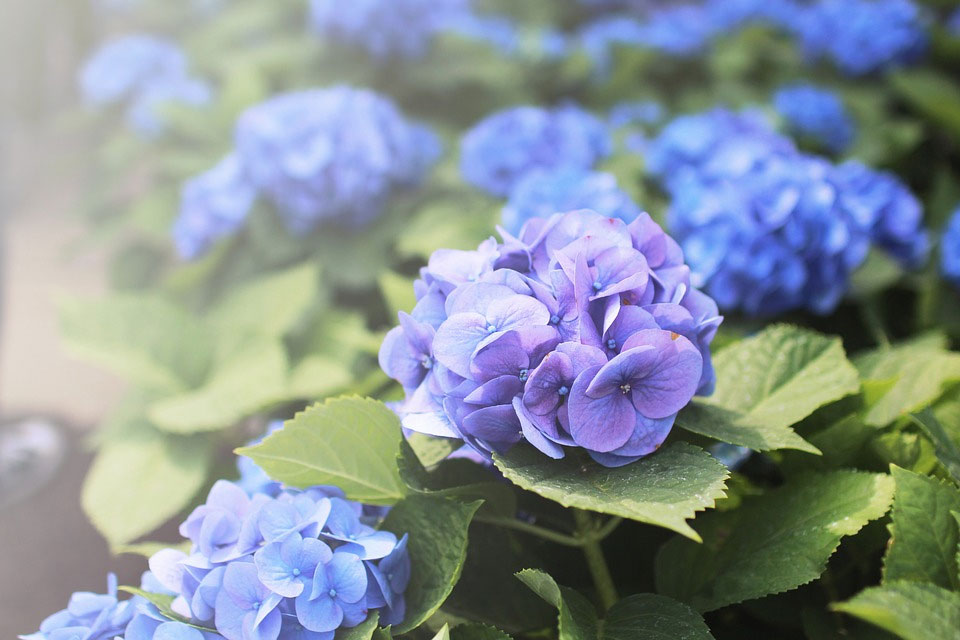 Who has never seen it in real life? The hydrangea is extremely popular and is available in all shapes and sizes
Spring flowers and ideal for weddings (American or English type, it also goes very well with a boho-chic style wedding).
We also remember the beautiful golden reflections that appear during the fall period.
When cutting, the hydrangea needs some care: scraping and chamfering the stem, as well as splitting it in half.
Do not place the hydrangea straight south, you will certainly see it wither before your eyes. He likes it just as much in pots as in soil.
A location on the north is more appropriate (shade, partial shade). Some heather is essential. And water without skimping.
The profuse flowering starts in May-June to September.
These spring flowers are a symbol of Brittany, we find many that form hedges. It's just super beautiful.
In principle, the hydrangea is white or pink, but sometimes we see blue. The blue is visible if you throw pieces of slate in quantity on the base of the plant (or a bluing product is just as functional, but not natural) or if you put the plant in pure heather soil. The blue color is then due to the acidity.
My opinion: the Hydrangea remains a safe bet and I am in love with it ... In general, plants love the sun, but they prefer to avoid it (but not only!). This is perfect for blooming areas of your garden that are more difficult to display.
If you are looking for these sublime outdoor hydrangeas, Brittany or the Basque Country will delight you. Their size is simply gigantic and magnificent. For the most variety you can go to nursery Dijk van Dijk. They grow excellent hydrangeas and can honestly call themselves "Master Growers".
Quick Tip: Let them dry directly on the plant and your hydrangea buds will remain in perfect shape for use in dried bouquets.
Bougainvillea: The beauty of the south
The Bougainvillea: an unmissable part of our holiday.
This plant is well associated with the South. In the Mediterranean and in the heat. I love this plant which is strong but looks fragile.
The colors of these plants are still just great: white, yellow, orange, red, purple. Something to please almost everyone.
But it is not the colors of the flowers (which in turn are white). These are the colors of the bracts that surround the flower. This is what we see first.
The shapes of the bracts are quite geometric and fleeting. And are only at the ends of the branches.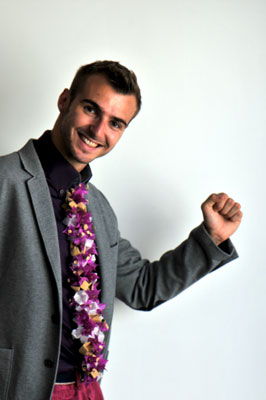 I turned it into a flower tie, it was a real pleasure. Beware, bougainvillea quickly shows signs of thirst when cut (even in water).
Unfortunately, it cannot withstand negative temperatures. Therefore, provide a heated storage place during the winter
Flowering of the Bougainvillea is from about April to autumn. When it comes to watering, be generous without drowning it. Nursery de Wintertuin is a good tip if you are looking for the most beautiful Bougainvillea.
My opinion: a climbing plant that is very interesting visually. But this is the one that stays the least spring of my top 5.
The colors, which are sometimes in gradations, really embellish the walls it hangs on (valid only in the south)
I think this is a strain that deserves more people's attention to appreciate it.
Please, my top 5 in no particular order. No, I have no preference between the mentioned plants.
But what about other spring plants?
I can advise you to take a look at the primulas, dipladenias or even begonias.
I guess when the flowers are reborn, I'll come out of hibernation too!
Just think about their shapes, their scents and their colors ... I feel completely in shape already!
Inspired by these spring flowers? Which plants are your favorite this spring?
What is your top 5?
About the writer: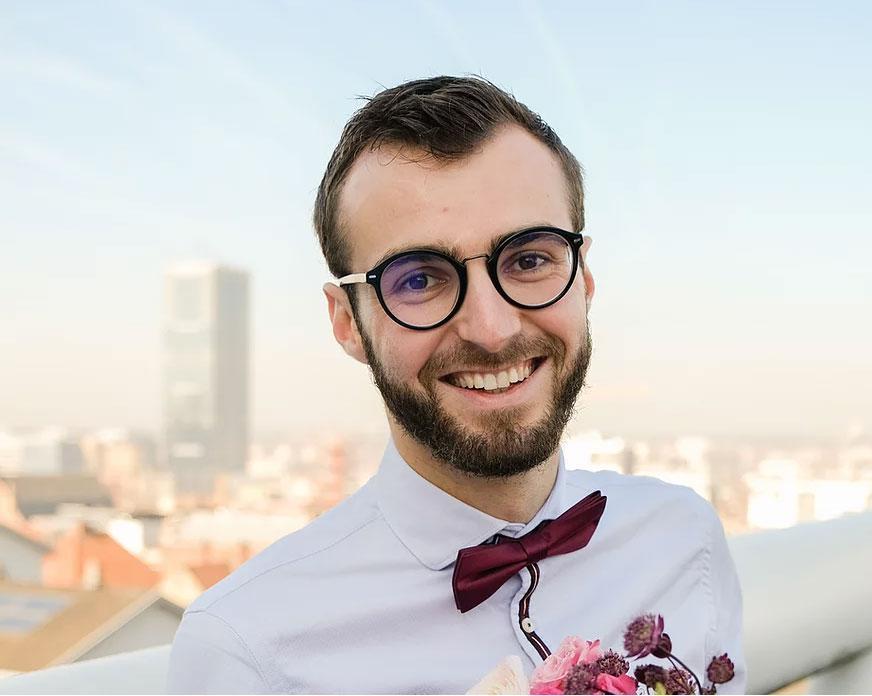 Max Hurtaud is a French master florist based in Brussels. A flower lover since birth, when he was 3 years old, he said to his mother "I want to be a florist to make bouquets for brides and for my mother!" and he never changed his mind.
He is very enthusiastic, passionate and funny. This humor and a passion for life is reflected in his beautiful designs.
In 2015, after 6 years of study at a flower art school near his hometown of La Rochelle and an internship in England, he decided to move to Belgium, although he actually lives in Brussels; according to him it is a good place for florists.
He loves to travel to discover different cultures, which are his source of inspiration. His work is eclectic and tries to find many new ways to create. He doesn't want to do the same and wants to surprise people.
Max now represents the new generation in the floristry world. His international flower career is growing and he now works all over the world.
Looking for the best wholesale for flowers and plants? We are MPS certified and we have the Qflor quality brand in our selection, so that you can rely on the highest quality. Always 100% fresh and with a choice of 15,000 products. Do you have any questions or would you like to register as a new customer? Call us on telephone number +31 174 725 380, send an email to This email address is being protected from spambots. You need JavaScript enabled to view it. or use our online contact form