Phalaenopsis nursery Mimesis

Phalaenopsis nurseryMimesis is the one-stop-shop for high-end Phalaenopsis. Every year they sell 11 million plants that eventually find their way to chains, wholesalers, garden centers and florists throughout Europe. Under their brand Mimesis, they supply many varieties and special concepts all year round, available in various pot sizes. Naturally grown sustainably. With this they offer the convenience of a total range, so that you can always find the Phalaenopsis under one brand in all its appearances.

At Mimesis they go for top quality. High-quality plants, sufficient availability and reliable deliveries. But quality is more than that for them. They unburden and think along with the shelf and consumer by surprising and inspiring with their brand Mimesis. Together they make the difference and allow consumers worldwide to enjoy their beautiful range, which has been compiled with care.

The growers of the phalaenopsis nursery Mimesis work closely with leading breeders and also do their own breeding and product development. The result? A unique composition of special collections, available in pot sizes 7, 9, 12, 17 & 21 cm. As a result, they offer the convenience of a total range, so that you can always find the Phalaenopsis under one roof in all its appearances.

Phalaenopsis nursery Mimesis originated from two family businesses: Ter Laak Orchids and Orchios. With craftsmanship they work every day on top quality Phalaenopsis. They know their product like no other and are constantly raising the bar. Each in their own way, but with the same vision and drive.

Sustainability is woven into their DNA. They want to make a positive contribution to a sustainable world and minimize their environmental impact. This is reflected in everything They do. Their growers invest in sustainable solutions that help to reduce water waste, lower their energy consumption and reduce CO2 emissions. They want to grow green. So that they can enjoy all that the world has to offer now and in the future.
Phalaenopsis nursery Mimesis | New in the range at Roobos
Phalaenopsis nursery As you can read, Mimesis is an excellent nursery with a long tradition of growing top quality Phalaenopsis. And now you can also enjoy the total range they offer. They have divided their beautiful range into a number of beautiful categories:
Atelier: A tribute to natural craftsmanship. Mimesis Atelier is the testing ground for beauty and creativity in all its manifestations. Unique, quirky, challenging, colourful, artisanal and visionary.
Flow: Be amazed by the burgeoning beauty of Flow. An eye-catching array of falling floral splendor, shaped by the grower.
Marvelous: Because there are not one, but two plants together, an enormous amount of flowers is created. Beautiful combinations in various colors. Marvelous is a bouquet that you can enjoy for months.
Moon: Follow the eternal cycle of temptation. Meet Moon; a traditionally shaped orchid. Admire its beauty and let your mind wander.
The meandering branches give Muse its free form. The branches are turned by hand by the grower, making each plant unique. Its compact size makes Muse a beautiful plant for the table and comes into its own perfectly in arrangements.
Originals: These are orchids as you know them. An infinite range of types, colors and sizes, selected especially for you.
Spirit: A special cultivation method ensures short, robust branches with large flowers. Due to its compact size, Spirit is a perfect showpiece on the table and comes into its own perfectly in arrangements.
Swan: Do you recognize the gooseneck in this orchid? An elegant and powerful appearance, just like the swan itself. With its large flowers, this orchid is a feast for the eyes.
Terra: Lavishly rampant, Terra takes you to the origin of life. Pristine beauty rooted in raw earth. A look at the beginning. Unpolished and original, like your deepest self

And of course the No. 7.


Phalaenopsis nursery Mimesis: Fragrant Orchids
Phalaenopsis nurseryMimesis has with their No. 7 collection something really special in your hands. Most orchids do not smell, that is what makes this variant so special. At night, this plant converts CO2 into oxygen. This process releases a wonderful natural scent, which you can smell especially in the morning. You recognize No. 7 in addition to the small flowers in mostly soft pastel colours.
The special fragrant orchid has a height of 40 to 50 cm and has about 16+ buds. In pot size 12, it is mainly available in pastel shades. Namely yellow, orange, red and brown.
Because the scent is so special, Phalaenopsis nursery Mimesis have also developed scented candles from this special plant. Let yourself be carried away by the feather-light perfume that this scented candle spreads.
And via our webshop you can order this special plant throughout the week from September 5 to September 9.
As an introductory promotion, you will receive a scented candle worth 21.50 free with every order of this scented Phalaenopsis.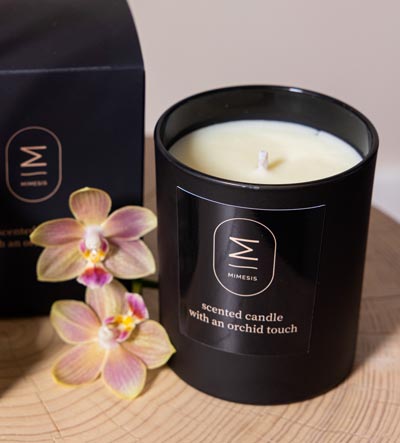 This way you can all enjoy the recognizable and inspiring quality that Mimesis offers you.
Would you like more information about Mimesis? Check out their website now for more information about this fantastic Phalaenopsis nursery: Discover our quality orchids - Mimesis (mimesis-orchids.com)
Would you like more information about our phalaenopsis nurseries? https://www.roobos.nl/nl/producten/groothandel-planten/orchidee-kwekerij

For more information about our plant range, please click on the following link: https://www.roobos.nl/nl/producten/groothandel-planten
Looking for the best wholesale for flowers and plants? We are MPS certified and we have the Qflor quality brand in our selection, so that you can rely on the highest quality. Always 100% fresh and with a choice of 15,000 products. Do you have any questions or would you like to register as a new customer? Call us on telephone number +31 174 725 380, send an email to This email address is being protected from spambots. You need JavaScript enabled to view it. or use our online contact form